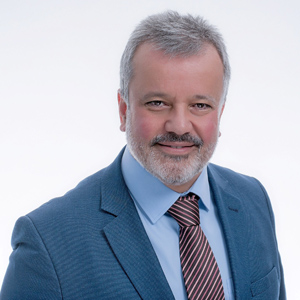 Διευθύνων Σύμβουλος Hewlett Packard Enterprise Ελλάδα & Κύπρος
Michalis is the Managing Director for HPE Greece and Cyprus since January 2018.
Michalis joined HP in 1994 as a Presales Manager in the Enterprise Systems Group. In 2002 he was appointed as the ESSN manager. During his 5 years engagement in this position he led HP's x86 and UNIX Business in the first market share position.
From 2007 until 2013 Michalis was assigned to the positions of Sales Manager for the Enterprise Group and then to the Technology Services Group of HP in Greece and Cyprus.
In 2013 he assumed a regional role as a Technology Services Manager in the regions of Greece, Cyprus and Africa. During his leadership the region delivered one of the highest growth rates in New Business in EMEA.
Michalis holds a Master's Degree in Information Technology from the University of Glasgow and a BSc in Mathematics from the National Kapodistrian University of Athens. He is based in Athens, Greece